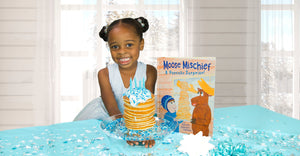 Brimming with humor and fun-loving characters, "Moose Mischief: A Pancake Surprise!" will delight and engage children. Get your copy today!

CHILDREN'S BOOK
Moose Mischief: A Pancake Surprise!
Cooper has the clever idea of making his mom breakfast for her birthday, and his friend the moose offers to help. The moose claims he's the best chef in Alaska, but is he really? Find out if Cooper's mom is happy about the surprise awaiting her in the kitchen!
Buy Book
Book Reviews
I think the best and only proof of a great children's book is, do the kids love it? "Moose Mischief: A Pancake Surprise!" is absolutely loved by our children. Not only do they love the cute story, they love the illustrations. Who doesn't love a moose anyway?

Kim Cimmiyotti
"Moose Mischief: A Pancake Surprise!" was a huge hit with my twin nephews. They wanted me to read it more and learn how to make pancakes. I recommend this for any little boy or girl. Would make a great gift and fun read.

Kay Owens
After just one read, this book became an immediate favorite of my 4-year-old daughter. Moose and Cooper are brought to life with the illustrations and the mischievous storyline gets her excited each time.

Rayna Jackson
I highly recommend "Moose Mischief: A Pancake Surprise!" as a great book for kids. I bought a few copies and have given them as gifts to children of friends or family members. Everyone has said it's a big hit as a bedtime story! The plot is funny and sweet, and the illustrations have been done with real care and creativity.

Stephanie Wells
"Moose Mischief: A Pancake Surprise!" has been a delight to read over and over to my kiddos! They love to take it into class to have their teachers read it as well!

Jen Carlson
My five-year-old daughter is now requesting stacks and stacks of pancakes like the moose makes! She always smiles through the whole story.

Jackie Schlumbohm
I love this book! It is such a funny, quirky story that preschoolers will really enjoy, and that adults will appreciate as well. The illustrations are also amazing! I cannot wait to see what adventures this boy and his moose friend have next.

Diane Navarrete
I love "Moose Mischief: A Pancake Surprise!" This adorable story about the adventure of these two friends is so fun to read. The characters are so lovable, and the author really makes the story come to life with her illustrations. I can't wait to read about their next adventure!

Samantha Albreaux
Moose Mischief is a fun, silly story that keeps kids laughing on every page. The unique and beautiful hand-painted art creates a wonderful world for Cooper and the moose. And I love how after all the silliness, Cooper's mom has a great lesson for them at the end.

Zach Powers
Meet the Author
Virtual School Talk!
Would you like to meet the author? Invite author and illustrator Danielle Gillespie-Hallinan to read her comedic book "Moose Mischief: A Pancake Surprise" on video chat at your school! After the reading, Danielle will share how she made the book and answer questions. Book your 30-minute FREE talk today! It'll be a moose-tastic event the kids will LOVE!
Book Now
Make Reading Fun
Filled with playful words like scoffed, bellowed and boasted, "Moose Mischief: A Pancake Surprise!" builds children's growing vocabulary and strengthens their reading ability.
Promote Literacy
Raise a Lifelong Reader
"Moose Mischief: A Pancake Surprise!" is perfect for all ages! The comedic story contains excitement and suspense. It will instill a love for reading for years to come.
Create a Book Lover
Provide Entertainment
The bright and playful illustrations done by hand contain lots of detail and enhance the fun storyline! Children can spend hours looking at the pictures, discovering new things.
Get Hours of Fun
The Inspiration
Danielle Gillespie-Hallinan came up with the idea for "Moose Mischief: A Pancake Surprise!" after her husband, Peter, told her an endearing story about befriending a moose as a child. One summer in the 1980s, a moose started coming by Peter's house in Fairbanks, Alaska every afternoon to eat the crabapples off the tree in his front yard. Wanting to be friends, Peter decided to make himself a peanut butter and jelly sandwich and wait for the moose, so they could have lunch together. They soon became buddies! Danielle loved the story so much that she decided to create a children's book series about a boy and his moose friend.